Southern Tomato Pie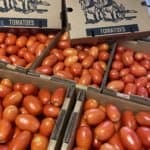 As summer begins to transition into fall, the weather starts to cool, and we settle back into our routines, we start to crave heartier and more comforting foods. What better ingredient to bridge this shift, than the tomato?  I recently saw a recipe for a Southern Tomato Pie on Facebook, and I just had to try it.  I was a little skeptical but it was so good.  No, it's not a traditional tomato pie that will always be a favorite, but this is definitely something I am adding to our late summer/early fall meal rotation.  You have to try this recipe, which has delicious, vibrant tomatoes and oozes with cheddar cheese.  It sort of makes me think of an elevated BLT, but way more decadent.  Don't knock it 'til you try it and if you make it, be sure to let me know what you think. 
Tasty Dinners as You Ease Back Into Your Routine
As your household adjusts from the carefree days of summer to the routine that back to school brings, we remind you that you can always let Sam's Italian Market take care of the cooking!  You need nourishing and tasty meals that will fit into your busy schedules.  Sam's meals are both a time-saver and a treat for your tastebuds.   We have the classics like Chicken Parm, Shrimp Scampi, and our famous Lasagna Trio that embody the comfort of home-cooked meals without the preparation time.  Pick them up, heat them up, and enjoy. 
Labor Day- One Last Hurrah! 
As the sun sets on summer, at least we have the long weekend to relax and spend time with our loved ones.  Stop by Sam's to pick up our housemade sausage, crafted from Nonna's recipe dating back to 1961, when the market was on Olney.  Stop by and pick some up to throw on the grill.  They make great sausage sandwiches on a roll but another alternative is to chop them, sprinkle with lemon, and stick with toothpicks.  It's a great appetizer that your guests will love. 
And don't forget dessert! As we say bye to summer, don't forget to pick up a Strawberry Shortcake.  Light and sweet, this is a treat you do not want to miss.  This will be the last weekend we make them until next season!  If you want to make your kiddos happy, grab some of our chocolate chip cookies and pack them in your kids' lunch.  These are sure to make them smile.
Keep it Social
If you haven't visited us on social media, now is the time.  Check us out on TikTok @samsitalianmarket for a behind-the-scenes look at our delicacies and get some good ideas on what to pick up on your next visit to the store.  If you can't resist satisfying reels, check out our Instagram and watch (and rewatch) our bakers expertly frosting cakes! Don't forget to post what you love most. 
Additional Savings
We are also pleased to offer special savings of 10% on orders up to $100 for on-duty police officers, fire, and EMS personnel.  And, every Wednesday, seniors over 65 will save 10% on orders up to $100.  
Sam's Italian Market & Bakery is a family-owned Philadelphia institution. Since our first store in the Olney section of Philadelphia, which opened in 1961, we have provided our local community with high-quality ingredients and prepared foods, steeped in our family's traditions.  Located at 3504 West Moreland Road in Willow Grove since 1977, we continue to provide delicious, high-quality food, including lunch, catering, prepared foods, and bakery and pastries – with unparalleled service for our customers!