I've always loved June. I think it goes back to how much I loved the month when I was a little kid.  The sheer excitement of school being over and the anticipation of carefree days of swimming and relaxing had me over the moon.  While most of us adults can't enjoy quite the same carefree days,  we can find time to relax, celebrate, and savor the sweet things in life and that's what this month is about.
June's a Time to Celebrate
If you're lucky enough to have a graduation to enjoy this season, we are here to help make sure this milestone is properly celebrated.  Get creative and consider a party honoring the graduate and serve their favorite foods!  You will find something for everyone on our catering menu including: 
Stromboli tray

Bread bowl dips

Chicken Cutlet Tray

Arancini
Finish the feast with a specialty cake and your guests will be thrilled.  Why not get a cake in the grad's alma mater colors or one featuring their special interests?  It's also a fun time to break out baby pictures to feature on the cake – that will really get your guests smiling!
If you're celebrating the special Dad, or guys in your life,  this Father's Day, be sure to stop by to see what our butcher has for you to grill something special for him.  Select some pre-made salads from our case and your meal is complete.  You're sure to be Dad's favorite when you top off the celebration with our delectable strawberry shortcake.  The sweet, delicious strawberries paired with our homemade cream and perfect cake create a dessert Dad will love.  
No More Teachers, No More Books! 
Remember that silly song from your school days? Well, it's soon replaced with kids asking "Why is there nothing to eat in this house?" 
It's a transition for lots of families with school-aged children when the kids are suddenly home- every day!  So be prepared with plenty of grab-n-go items your kids can help themselves to quickly and easily.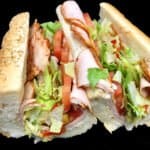 Our always-popular hoagies are the best option for busy families with hungry kids. Whether you pick from our specialties like The Don or The Smokin' Turkey, or you customize your own creation, our hoagies are sure to be a summer favorite for your whole family. Some might say Sam's makes the best Italian hoagies around!  It's a good idea to keep our lunch menu nearby all summer because happy kids are quiet kids… maybe!
Summer on the Farm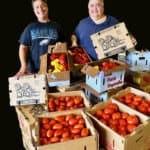 If the sweet smell of lilacs in spring has you already craving Lancaster corn and tomatoes, you'll be happy to hear that Adam and Frank have begun making the trek back to Lancaster to pick out the finest tomatoes and other farm-fresh produce.  As we do every year, we select only the finest of the harvest for you. As always, we will keep you posted with what's ripe and some great tips and hints on how to enjoy summer's best produce. 
Additional Savings
We are pleased to offer 10% off your purchase every day for on-duty police officers, fire and EMS PERSONNEL. Must be in uniform. Catering not included.
And every Wednesday, seniors over 65 will save 10% off your purchase. Catering not included.
Follow us on Facebook, Instagram, and TikTok for the latest updates!
Sam's Italian Market & Bakery is a family-owned Philadelphia institution. Since our first store in the Olney section of Philadelphia, which opened in 1961, we have provided our local community with high-quality ingredients and prepared foods, steeped in our family's traditions.  Located at 3504 West Moreland Road in Willow Grove since 1977, we continue to provide delicious, high-quality food, including lunch, catering, prepared foods, and bakery and pastries – with unparalleled service for our customers!