We anticipate Christmas for months but we all tend to be surprised by Easter's approach!  Many of us find ourselves questioning- Can it really be Easter already?  Maybe it's because its a different week every year or we are so busy with Springtime events that it seems to sneak up on us.  
Don't worry, whether you've been planning your Easter brunch for weeks or you are caught off guard by the Easter Bunny's impending arrival, we have just what you need to make it a memorable holiday!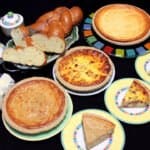 Easter Brunch or Easter Eve Dinner? 
For many families, there are traditions surrounding big holiday dinners and Easter is no exception.  Since family isn't always nearby, folks may be traveling, or there are multiple folks to visit over the holiday, a growing trend is gathering for different meals surrounding the holiday.  Whether your family is embracing an 'Easter Eve' celebration or a Sunday Brunch, we have a number of items that you can serve for any Easter occasion. 
Our Heat and Serve Easter Dinners offer what you need this Easter to give you more time to spend with your guests.  If you like ham, we have a Leidy's Spiral Cut Easter ham, ready-to-eat or heat and add the glaze.  We offer these naturally wood-smoked hams with spring carrots and broccoli in our garlic butter sauce, green beans almondine, and potatoes au gratin options. Turkey is always popular and we offer it with all the fixings, too.  We also have Leg of Lamb, either bone-in & boneless available.  Order by Monday, April 3rd  to ensure you'll have what you want for your festivities.    
In our family, we say Buona Pasqua at Easter and enjoy our Italian specialties of sausage and lasagna, too, which are available in our special Easter packages or ala carte this season.  Another Italian tradition that everyone enjoys is our specialty sweet and savory pies.  The ricotta pie is delicately flavored with anisette and lemon and offers just the right amount of sweetness.  If you haven't tried our rice pies, made with ricotta, rice, and cinnamon, you are in for a real treat this holiday season.  
A highlight of Easter is Focaccia Piena, an Italian Easter delicacy with Italian-style roasted pork, soppressata, hard-boiled eggs, & mozzarella tucked into our artisan dough!  If you're a guest at a celebration, this is the perfect thing to bring to have the guests raving!
Of course, Easter wouldn't be complete without the traditional Easter breads available in ring, twist (with or without egg), and roll.  Not only are these delicious, but they also look so good on your Easter table, along with a Bunny cake of course, and will make everyone smile remembering past celebrations!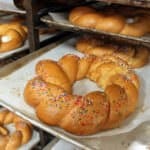 Gimme a Quiche
Quiche is great for dinner, and lunch, and of course, it was made for brunch!  Our quiches are always popular and available in 9 varieties which means serving a variety of these will ensure everyone has something to enjoy. Pick from spinach, spinach & red pepper, spinach & mushroom, tomato basil, broccoli, Lorraine, ham, sausage, and seafood (with crab and shrimp).   
Serve several of these and pair them with our Easter breads, lasagna, ricotta pies, side salads, and pastries and everyone will be raving about your fantastic brunch buffet.  Consider serving Mimosas and a holiday-themed cake or festive cupcakes and your brunch may become the spring celebration everyone will put on their calendar next year.  
We are also pleased to offer special savings of 10% on orders over $100 for on-duty police officers, fire and EMS personnel.  And, every Wednesday, seniors over 65 will save 10% on orders over $100.  
Follow us on Instagram and Facebook for our latest media mentions, products, and don't forget to post what you love most!
Sam's Italian Market & Bakery is a family-owned Philadelphia institution. Since our first store in the Olney section of Philadelphia, which opened in 1961, we have provided our local community with high-quality ingredients and prepared foods, steeped in our family's traditions.  Located at 3504 West Moreland Road in Willow Grove since 1977, we continue to provide delicious, high-quality food, including lunch, catering, prepared foods, and bakery and pastries – with unparalleled service for our customers!