March can be a fickle month, but that doesn't mean we shouldn't celebrate it for all the good things it brings.  There's reason to gather and cheer on our favorite basketball teams, enjoy festive fare to celebrate St. Patrick's Day and St. Joseph's Day, and a time to anticipate the upcoming spring season.  Whatever you have planned, here are some tasty ways to harness the madness of March!
March Meatball Madness 
A tradition as true as the basketball playoffs, Sam's is once again celebrating March with our Meatball Madness sale of $1.00 off 9-count containers and $2.00 off 20-count containers.  Your gang will cheer because everyone wins at your March Madness party when you serve Sam's signature meatballs.  Simply paired with a hearty serving of your favorite pasta or in a casserole alongside Sam's hearty rolls, sliced provolone, or mozzarella cheese for make-your-own meatball sandwiches.  Go team meatball!
Weekend Fit for Saints
Mid-month is a time to celebrate two saints, but at Sam's, we're celebrating all month long with some unique specialty foods.  
St. Patrick's Day is a fun time to drink a brew and enjoy some hearty Shepherd's Pie which we have ready right now at Sam's.  This iconic Irish dish paired with some brightly decorated cupcakes will have you feeling lucky you shopped at Sam's for the holiday weekend.
If you haven't celebrated the Feast of St. Joseph before, this year could be a great time to start. That's because the day falls on Sunday, March 19th, so it's a great reason to gather the family for a Sunday dinner.  The tradition of celebrating this feast day originates in Italy where the feast day is celebrated with prayer, decorated altars at home with red tablecloths, and families joining together to enjoy traditional foods of the Lenten season like bread, fava beans, pasta, vegetable soups, and seafood specialties.  Pasta is often dusted with breadcrumbs instead of cheese as a tribute to St. Joseph's occupation as a carpenter.  Finish your feast with our traditional St. Joseph's cakes, available in ricotta cannoli cream or vanilla custard!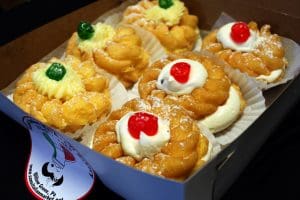 Lenten Delicacies Abound
If your mouth waters with the thought of all the fresh seafood to enjoy during Lent, you won't want to miss our offerings.  We make it easy to do a Friday fish feast!  Check out all we have to make your Fridays even better-
Fried flounder

Fried shrimp

Fresh scallops

Fresh flounder
Finish off the meal with a delectable Sam's cake to celebrate the weekend or try our coconut macaroons which are receiving rave reviews!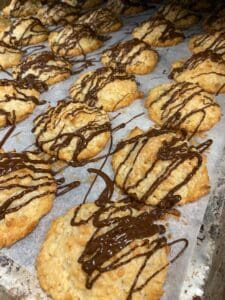 Additional Savings
We are also pleased to offer special savings of 10% on orders up to $100 for on-duty police officers, fire and EMS personnel.  And, every Wednesday seniors over 65 will save 10% on orders up to $100.  
Sam's Italian Market & Bakery is a family-owned Philadelphia institution. Since our first store in the Olney section of Philadelphia, which opened in 1961, we have provided our local community with high-quality ingredients and prepared foods, steeped in our family's traditions.  Located at 3504 West Moreland Road in Willow Grove since 1977, we continue to provide delicious, high-quality food, including lunch, catering, prepared foods, and bakery and pastries – with unparalleled service for our customers!