The new year gives us an opportunity to embrace a fresh start and at Sam's we have lots of ways you can live a healthy and delicious lifestyle with our tasty offerings this January.  Instead of giving up things you love this year, simply restart right and enjoy the fresh foods you already love.
Making Good Choices
As we all know too much of anything is not good. Making good choices when it comes to the foods we enjoy can make all the difference in our health and our happiness.  Experts say that even small changes we make to our diets can have a big overall impact on our lives.  At Sam's, we have ways for you to make these tweaks while still savoring good food.
One of our most popular dishes now is Naked Chicken Parm.  Imagine all the goodness of one of our traditional dishes with less guilt!  We take seasoned grilled chicken breast and top it with our signature homemade sauce and fresh mozzarella!  No frying, no breadcrumbs, and yet all the tastiness of this comfort food.  Grab an extra when you stop by, you'll be glad to have it at the ready when hunger hits.  
Resolve to Eat your Veggies
When people tell me they don't like certain foods, like vegetables, I say, you just haven't found the right way to enjoy them!  We offer a grilled vegetable medley that is easy to love.  Carrots, eggplant, zucchini, and red bell peppers combine in this zesty medley and are versatile enough to serve as a main course, a rich side dish, or on our own grilled veggie hoagie.  With game-time parties coming up, serve these alongside a cheeseboard and you'll have an instant fan favorite.
If you are striving to eat more salads this year, be sure to try our chickpea salad.  It's made in-house with fresh vegetables and is packed with protein and nutrients to help fuel you to keep all your resolutions!
Game Time Goodies
Our Birds are still flying high and football parties will probably be on your calendar this month.  Remember to order a hoagie box for game time and if you're craving something spicy- try the Smokin' Turkey!  This hoagie is growing in popularity and you won't find anything else like it anywhere.  
After all those healthy meals, it may be time to sneak a cookie or game day cupcake decorated to taste as good as they look.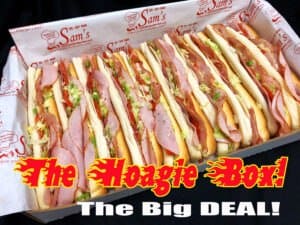 Snow Place Like Home
That's what I say when the flurries start piling up.  Although we've dodged any big weather events so far, we all know the weather can change quickly.  So, be sure to copy and paste the below on your shopping list so you have some delicious specialties in your freezer to enjoy on the next snow day!
Chili (Beef, Turkey, or Vegetarian)

Chicken Cutlets

Minestrone

Italian Wedding Soup
Keep it Social
When you follow us on Instagram, Facebook, and TikTok you'll get the latest scoop on what's being cooked up in our kitchen, decorated in our bakery, and our latest gourmet offerings, too.  And, if you don't follow us, you should start now and you won't miss out on all the fun. Don't forget to tag us as we'd love to see you enjoying some Sam's goodies during your next Eagles celebration!
Additional Savings
We are also pleased to offer special savings of 10% on orders up to $100 for on-duty police officers, fire and EMS personnel.  And, every Wednesday seniors over 65 will save 10% on orders up to $100.  
Sam's Italian Market & Bakery is a family-owned Philadelphia institution. Since our first store in the Olney section of Philadelphia, which opened in 1961, we have provided our local community with high-quality ingredients and prepared foods, steeped in our family's traditions.  Located at 3504 West Moreland Road in Willow Grove since 1977, we continue to provide delicious, high-quality food, including lunch, catering, prepared foods, and bakery and pastries – with unparalleled service for our customers!