There's never been a better time to live in Philly. The Phillies are in the World Series, our Eagles are undefeated, and Sam's has all the best foods to make your November one to remember.  
While we gear up to cheer for the home teams, we're looking forward to having a celebration this Thanksgiving that may look and feel a bit more like those we had in years past.  Whatever your plan, Sam's will have what you need to make your celebration complete but please remember to plan early!
Don't be Tricked out of a Turkey Treat
It's a fact that turkeys are in very short supply this season.  So, before you prepare the candy for trick-or-treaters, remember to place your turkey order by October 31st. We will have a few sizes left after the 31st.  You don't want to be tricked out of the turkey treat you look forward to all year long!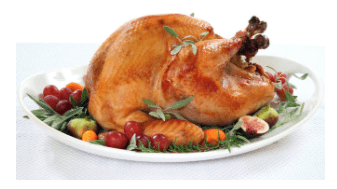 Maybe this year you want to focus on spending more time with your guests than cooking or your busy schedule just doesn't give you the time to whip up the entire meal.  Whatever your situation, we are here to help out.  We are again offering a heat-and-serve meal that will please everyone! See our Thanksgiving Order Form HERE!
The meal consists of:
mashed potatoes

traditional bread stuffing

yams glazed with brown sugar

glazed carrots

string beans almondine

turkey gravy 

cranberry sauce
Meals and the a la carte side dishes and fixings can be ordered through November 11th.  Call us at 215-657-3666 or come in to order. 
If not everyone is a turkey fan or you like to have a few options for your friends and family, we also offer these fine entrees to make your meal a feast:
Leidy's spiral-cut hams

Filet roast

Prime rib roast

Crown of pork roast

Pork loin roast

Porchetta seasoned pork loin roast
Start a New Tradition
Many of us are looking forward to having a more traditional Thanksgiving this year than we have experienced in the past few years.  However, that doesn't mean that everything you serve has to be traditional.  Consider adding something new on the table this year, like one of our homemade pasta dishes like our baked ziti and ravioli, lasagna, penne rose, or our decadent lobster ravioli.  These additions offer wide appeal while also satisfying the needs of your guests who may have different meal preferences.
Dessert Makes the Meal 
We had a joke in our family that our grandfather would never ask 'What's for dinner?'  Instead, he'd ask 'What's for dessert?'  
If your family is anything like mine, then everybody loves a sweet ending to a holiday meal.  That's why we have all your favorite Thanksgiving desserts along with some extra special festive delights like:
Pumpkin Crumb Cake 

Pumpkin Roll

Apple Caramel Torte
If you're a pie traditionalist, we have a variety of flavors and sizes that you can't find everywhere else.  Along with pumpkin and apple, we also have cherry, blueberry, coconut, lemon meringue, peach, pecan, and mince pies. Stop in the store or call us now to order the perfect pie for your clan by November 20th.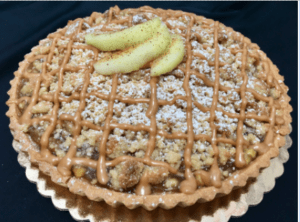 Keep it Social
If you follow us on Instagram, Facebook, and TikTok you may have seen our great Phillies cupcakes and some of our newest gourmet offerings, too.  And, if you don't follow us, you should start now and you won't miss out on all the fun.  And, don't forget to post pictures of your family enjoying a Sam's holiday feast! 
Additional Savings
We are also pleased to offer special savings of 10% on orders up to $100 for on-duty police officers, fire and EMS personnel.  And, every Wednesday except the week of the 21st in November, seniors over 65 will save 10% on orders up to $100.  
Sam's Italian Market & Bakery is a family-owned Philadelphia institution. Since our first store in the Olney section of Philadelphia, which opened in 1961, we have provided our local community with high-quality ingredients and prepared foods, steeped in our family's traditions.  Located at 3504 West Moreland Road in Willow Grove since 1977, we continue to provide delicious, high-quality food, including lunch, catering, prepared foods, and bakery and pastries – with unparalleled service for our customers!