Fall, football, and food all come together in October.  These are three of my favorite things and they all help make this one of the best times of the year.  
If you're a big football fan, Sam's is your game-day headquarters.  Whether you make it a reason to party or you're a serious fan that needs to concentrate on every play, we have exactly what you need to make your game day a reason to celebrate.
If you're more fall foliage focused, you probably love the idea of a crisp morning enjoyed with a hot cup of coffee and one of our seasonal treats, such as an apple cider doughnut, which is available through November.  And, the best finale of this great month is Halloween which will be filled with parties for kids of all ages this year.  No matter what you have planned, Sam's has what you need to celebrate fall!
Football Frenzy
The Eagles have had a great start and we all cheer for it to continue!  Lots of us are getting together this October to cheer on our favorite team and celebrate with our friends and family.  Get the most out of your football season when you plan ahead and order a hoagie box from Sam's.  This box of ten hoagies makes entertaining easy and delicious.  Our fans tell us everyone gets what they want, how they like it best.  Order yours in advance for the upcoming games and you and your fellow fans will be pleased you did!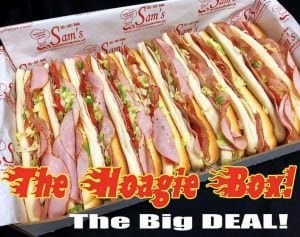 If you want to make your party even bigger and better, pick up some tomato pie and stromboli.  Nobody can resist a sweet treat and our Eagles cupcakes fly out the door- just like our favorite birds continue to soar!
Prime Pumpkin & Apple Season
If you love pumpkin as much as we do, now's the time to check out our pumpkin specialties at Sam's.  Who says pumpkin pie is just for the holidays?  I say, if you love it, enjoy it today.  Our traditional pumpkin pie is a big hit along with our unique pumpkin cannoli.  Our pumpkin roll is also very popular and the perfect thing to make a fall weekend- or any day-  even sweeter. Try our new Pumpkin Cheesecake! That's right, we finally gave in to popular demand and made a symphony of creamy pumpkin spice goodness!  You do not want to miss this. 
 It may be the end of Adam & Frank's trips to Lancaster for the year, but their final trip was sweet! Lancaster's finest Honey Crisp Apples are back! These  Honey Crisp apples are the juiciest by far! Our delicious apple tortes and apple cheesecake bars are being whipped up by our in-house bakers! Our time-tested recipes are a definite crowd pleaser for sure! 
Spooky Sweets 
This Halloween is sure to be a really fun time for ghosts and goblins of all ages.  With the holiday falling so close to the weekend, there's sure to be lots of festivities the last weekend of October.  No party is complete without a Sam's specialty cake or some spooky cupcakes guaranteed to put a smile on even the scariest of faces!  We welcome our new very talented artist, Barbara the cake artist, to ensure your sweet ending is simply spooky and perfect!
Talkin' Turkey
It's not too early to talk turkey.  This year, supply is scarce so order early and be prepared for a holiday season that you'll want to make extra special with the finest foods.  It's scary to miss out on making your holidays extra special so be sure to place your holiday order for whatever you need- a whole turkey, a prime rib roast, or a Leidy's spiral cut ham- no later than Monday, October 31st!

Soup's On
Along with all the great things fall has to offer, it can also be a time we succumb to a cold or other sicknesses.  So, stock up on some of our chicken soup, Italian wedding soup, and some spicy chili- it's been known to open your airways and make you feel great!  Look in our freezer section for some of your favorites that are great to have on hand for the chilly days ahead.
Keep it Social
Follow us on Instagram, Facebook, and TikTok for our latest media mentions and products, and don't forget to post what you love most!  If you haven't visited us on social media, now is the time. Check us out on TikTok @samsitalianmarket for a behind-the-scenes journey on our delicacies and get some good ideas on what to pick up on your next visit to the store.  If you missed it, some of our popular IG reels include a peek at making fresh pasta and announcing our best new craft butter offerings.  Check it out!
Additional Savings
We are also pleased to offer special savings of 10% on orders up to $100 for on-duty police officers, fire and EMS personnel.  And, every Wednesday, seniors over 65 will save 10% on orders up to $100.