The old adage 'if you can't stand the heat, stay outta the kitchen' definitely rings true these past few sizzling days of summer. So, stay out of the kitchen and come to our cool store and pick up some refreshing summertime specialties sure to help you enjoy these sunny days.
Stay Outta the Kitchen
It's simply too hot in the Philly burbs. So, keep your cool and stay outta the kitchen! If you haven't tried the best hoagie in Philadelphia, now is the time. Pick up a few and have them ready to nibble on when hunger strikes! These hoagies are so good, they'll have your family and friends asking for more.
If your appetite wains in the hot weather that's even more reason to have something mouthwatering at your fingertips. Some great items to keep on hand during these sweltering days are Sam's ready-made pasta salads from our deli and our always popular tomato pies. An all-time favorite in our house is our chicken cutlets. When you have these savory tender fillets on hand you will always have the right thing to add to pasta, make a cutlet sandwich, or top a garden fresh salad.  Just let us do the cooking and you'll be chill all month long.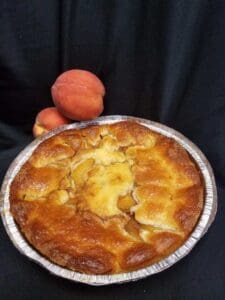 Peachy Keen Time
The recent harvest of Lancaster peaches reminds us why we love summer. Perfectly sweet, juicy, and just the right amount of crunch, these peaches are the finest we have all year. We just received the white donut peaches which are a delight. So if you love peaches, stop in and consider exploring different ways to enjoy this August gem.
If you can't resist peach sweet treats, visit our bakery for the our latest peach cake featuring Lancaster fresh peaches. Adam and Frank have really found the best of this year's peach crop and our talented bakery team has created a sweet treat you just need to taste.
But, don't think of peaches just for dessert! They are an unexpected sensation when you grill them. Just halve, and put on a medium grill. Check after 3-4 minutes for grill marks. Let them cool slightly and then serve on a fresh salad with a mild cheese and balsamic dressing or serve alongside a great cut of pork from Brian our Butcher. If you want something a little fancier, mix a 1:1 ratio of bourbon and molasses then drizzle on the peaches and serve on a cheese board with some our hearty Italian bread. Let me know how you like it!
Corny at Heart
Nothing says summer like freshly picked corn on the cob! If it's one of your favorites, you can't miss the fresh corn Adam and Frank have brought back to the store. Steamed, grilled, plain, or with butter… no matter how you crave corn, this is the pick of the crop.
Even though we're in Eagles country, a serving of Texas Caviar would be a great addition to your next picnic or potluck. This recipe is simple and also works great with the juicy ripe peppers from Lancaster.
Keep it Social
If you haven't visited us on social media, now is the time. Check us out on TikTok @samsitalianmarket for a behind-the-scenes journey on our delicacies and get some good ideas on what to pick up on your next visit to the store. If you can't resist satisfying reels, check out our Instagram and watch (and rewatch) our bakers expertly frosting cakes! Follow us on Instagram, Facebook, and TikTok for our latest media mentions, product news, and don't forget to post what you love most!
Additional Savings
We are also pleased to offer special savings of 10% on orders up to $100 for on-duty police officers, fire and EMS personnel. And, every Wednesday, seniors over 65 will save 10% on orders up to $100.
Sam's Italian Market & Bakery is a family-owned Philadelphia institution. Since our first store in the Olney section of Philadelphia, which opened in 1961, we have provided our local community with high-quality ingredients and prepared foods, steeped in our family's traditions. Located at 3504 West Moreland Road in Willow Grove since 1977, we continue to provide delicious, high-quality food, including lunch, catering, prepared foods, and bakery and pastries – with unparalleled service for our customers!