June was made for parties. As late spring ushers in the promise of summer, many of us watch our calendars fill up with fun events. This year may mean lots of overdue parties and celebrations for you and your family. So, there's no doubt you'll want to have some delicious food on hand to make the best month even sweeter.
June Wins for Best Month
The anticipation of summer is bursting in June. If you are looking forward to the coming weeks as much as I am, you'll want to make sure you have all your events planned and food ordered ahead of time so you can enjoy more of the fun.
June is great because we celebrate all our grads and amazing guys we call Dads. Whether you're thinking of a casual luncheon or a seated family dinner, chances are that Sam's extensive and varied catering menu will offer just what you need.
GRADS!
After all the hard work your graduate has put in over the years, it's time to celebrate. I love graduation parties, but it seems the food is often the same at most parties. If you want to make your party stand out from the others, talk to us about how to select something nobody else will be serving. Consider some of these unique offerings:
Stromboli tray
Bread bowl dips
Three-foot hoagies
Arancini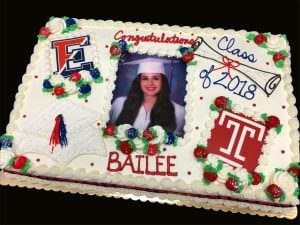 Whether you're having a big party or a small celebration, the main feature of any party is the dessert and our cakes will make your event even more memorable. Here are some fun ideas for a cake to honor your special graduate :
Kindergarten picture paired with a senior picture
High school/college colors and mascot
Special achievements- band, academic awards or sports can all be incorporated into a special design for your grad
DADS!
Dads often say they don't want any fuss for Father's Day, but we want to celebrate them. Dads come in all different varieties and we have something special for whatever kind of Dad you have.
Grilling Dads– check out our selection of fine meats perfect for the grill. Make the meal complete when you pick up some of our delicious salads for an easy and tasty meal everyone will love.
Picnic Dads– order a variety of specialty hoagies, like our Italian hoagie and cupcakes and take your dad to their favorite park or lakeside for a memorable gathering.
Sweet-tooth Dads– it's scientifically proven that Dads love dessert so you'll be sure to find something in our bakery case he'll love. So pick up a peanut butter pie or Italian rum cake that Dad may even share.
School's Out, Kids Home
It's great having the kids home for the summer (really, it is!), but it does mean you'll be hearing more often, "What is there to eat?" Chances are your kids will be busy with activities, socializing, and even relaxing which may make them even more hungry. All parents know that growing kids seem to inhale food sometimes, too!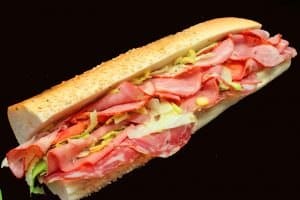 Our always popular Italian hoagies have been described as some of the best Italian hoagies in
Philadelphia so, you'll want to stock up and pick up an assortment of tomato pies, too. Our offerings don't stop here, so download our lunch menu and keep it handy so the next time the crowd shows up hungry asking for food, you'll have just what they want.
Summer on the Farm
Adam and Frank have begun the trek back to Lancaster to pick out the finest tomatoes and other farm-fresh produce. We select only the finest of the harvest for you and will keep you posted with what's ripe and some great tips and hints on how to enjoy summer's best produce.
Additional Savings
We are also pleased to offer special savings of 10% on orders up to $100 for on-duty police officers, fire and EMS personnel. And, every Wednesday, seniors over 65 will save 10% on orders up to $100.
Follow us on Instagram and Facebook for our latest media mentions, and products, and don't forget to post what you love most!