No matter what brings you madness this March we have what you need to make your month deliciously enjoyable.  From the best hoagies around to celebrating tradition to our own soon-to-be-famous pound cake— Sam's will help you be prepared for whatever this month of extremes can bring. 
March Meatball Madness 
If you're crazy for hoops and a good hoagie, we brought the two together for March Meatball Madness.  This March, you can get our always-popular meatballs on sale and be ready for a great meal in minutes.  Or, pick up our specialty rolls, your favorite cheese (I recommend provolone or mozzarella), and enjoy a meatball hoagie that pairs perfectly with cheering on your favorite team. 
Be prepared for all the March Madness fun with a Hoagie Box with your favorites like Philly's best Italian Hoagie as well.  This deal pairs your tummy and your wallet and both win when you pick up this crowd-pleaser.  
Tradition and Celebrating St. Joseph's Day
After the past two years, many of us are looking for reasons to celebrate and enjoy good times with family.  If you're feeling like it's a good time to start a new tradition or just looking for a great reason to gather this March, consider celebrating St. Joseph.  Although the Feast of St. Joseph is March 19th,  we're kicking it off on March 1st because it's a special time filled with some great food.  
In Italy, St. Joseph's Feast Day is celebrated with food and prayer.  Some homes build elaborate altars with red cloths and spend the time visiting family and enjoying great food.  The celebration was brought to this country by Italian immigrants and is still celebrated in many Italian-American homes with visits to church and special Lenten feasts with symbolic foods like bread, fava beans, pasta, vegetable soups, and seafood specialties.  Pasta is often dusted with breadcrumbs instead of cheese as a tribute to St. Joseph's occupation as a carpenter.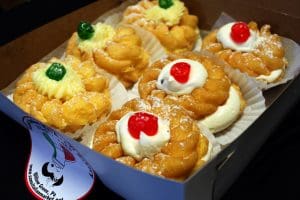 If you're looking to hold a St. Joseph's feast this year, we have everything you'll need.  Along with our great entrees and side dishes, be sure to check out our French crueler filled with ricotta cream or vanilla cream, the perfect feast dessert.  
Stock up on Pound Cake
Due to supply issues and shortages, we are no longer able to carry Stock's pound cake to you.  However, we have started making our very own delectable all-butter pound cake with that awesome icing that is getting rave reviews from our loyal customers.  It's pretty popular now, so you may want to 'stock' up on it as it freezes well!  
Whatever you have planned this March, Sam's has something to make it more special.  Follow us on Instagram and Facebook for our latest media mentions, products, and don't forget to post what you love most!
Sam's Italian Market & Bakery is a family-owned Philadelphia institution. Since our first store in the Olney section of Philadelphia, which opened in 1961, we have provided our local community with high-quality ingredients and prepared foods, steeped in our family's traditions.  Located at 3504 West Moreland Road in Willow Grove since 1977, we continue to provide delicious, high-quality food, including lunch, catering, prepared foods, and bakery and pastries – with unparalleled service for our customers!