There's no doubt about it, we are headed towards the holiday season.  Once you pack away the Halloween decorations, it's time to start planning your big Thanksgiving feast.  Don't be a turkey, order early- your turkey and all your sides should be ordered early this year because the supply chain is still experiencing delays and we all want to enjoy our time together as much as possible.  
Now more than ever, we feel like we need to celebrate this holiday season the right way.  That may mean a big turkey dinner extravaganza or a smaller scale celebration you make unique in your own way. No matter what will be on your table, we are working hard to make sure that we have what you need to celebrate the season so it will be one you remember for a long time.
A new tradition for Thanksgiving
Thanksgiving is my favorite holiday because it's all about enjoying good food with my family.   No matter what, Thanksgiving is about tradition.  But, you may find the supply is short on some of your beloved traditional foods.  So, this year, you may want to try and start a new tradition.   This year may mark the start of a new tradition when you serve one of these specialties: 
Baked Ravioli

Baked Ziti

Penne Rose

Lobster Ravioli
These are also great options if you have a vegetarian guest, or you just want more variety on your table this holiday!
Talkin' turkey and its fixings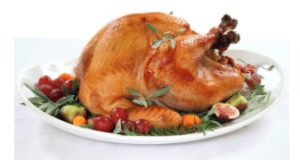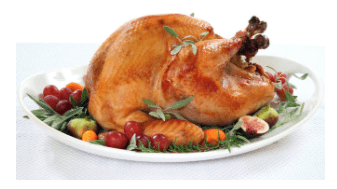 The main ingredient for many of us this Thanksgiving is the turkey.  If you want to ensure you get the right-sized bird for your feast, you will need to order your turkey by November 7th.  Simply fill out this form or give us a call and we will talk you through the ordering process. 
Don't forget about all the great sides that make the holiday special- 
mashed potatoes

traditional bread or sausage and fig stuffing

yams glazed with brown sugar

glazed carrots

string beans almondine

turkey gravy 

cranberry sauce 
Have us prepare these dishes so you can spend a little more time enjoying the day than cooking.  
Order these items by Friday, November 12th.
And, you'll want to save room for pie, torte, or our crowd-pleasing vanilla cake Turkey Centerpiece Cake– it definitely tastes as good as it looks!  
Be prepared this season
The messages of possible shortages are everywhere this upcoming holiday season.  If you want to get ahead of the rush and be prepared for whatever your festive season holds, we recommend buying what you like when you see it!  It's a great idea to pick up a few extra frozen prepared dishes, like lasagna and stuffed shells, to have on hand for an impromptu family dinner or a cozy night at home.
If you anticipate long days of shopping and decorating ahead, remember to pick up some of our famous Sam's Meatballs for your freezer- they make a great quick and hearty dinner when paired with our perfect pastas or served up on our freshly baked rolls with some nice provolone for a meatball sandwich that will make you want to celebrate!
Sam's Italian Market & Bakery is a family-owned Philadelphia institution. Since our first store in the Olney section of Philadelphia, which opened in 1961, we have provided our local community with high-quality ingredients and prepared foods, steeped in our family's traditions.  Located at 3504 West Moreland Road in Willow Grove since 1977, we continue to provide delicious, high-quality food, including lunch, catering, prepared foods, and bakery and pastries – with unparalleled service for our customers!