Ahhh…. October is upon us!  Changing leaves, cooler weather, and lots of reasons to enjoy some great food.  Whether it's a tailgate, a milestone birthday, or a family dinner, fall is the ideal time to enjoy some heartier fare you may not have served in the warmer months.
With the growing season wrapping up, so are Adam and Frank's trips to Lancaster to get the freshest produce for you.  There are still some great fresh vegetables to enjoy, like tomatoes and zucchini that are ripe and ready for you to enjoy.
Look out for Honey Crisp apples freshly picked from Lancaster too!
National Eat Together Month
October is National Eat Together Month and we're ready to help you celebrate.  We've all heard that families that eat together experience all kinds of benefits and we all know that across the family dinner table- or gathered around the kitchen island- is where we find out about homework, crushes, and workplace triumphs and struggles.  That's because home is where we reconnect and what better way to do that than over a hearty meal everyone enjoys?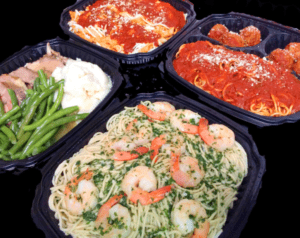 Let us help you make the most of your family mealtime by doing the cooking for you.  Our classic dishes of lasagna, manicotti, and homemade soups are always a family favorite.  Another one of my family's favorites is chili.  At Sam's, we have varieties available in beef, turkey, and vegetarian – something for everyone!  Heat up the chili of your choice and then set up bowls of hot and sweet peppers, shredded cheese, chopped onion, and avocado, and let your family create their own creation.  Then, hunker down and ask the big question- "how was your day?!"
It's the great pumpkin!
Pumpkin is one of everyone's favorite things about the fall.  If you love everything pumpkin, you'll love our delicious pumpkin roll. Slice some up and put on a hot pot of coffee- it's the perfect fall treat. If you're serving a crowd, consider serving slices on a platter with some cruffins and sliced apples, too. 
If you crave a savory pumpkin dish, be sure to check out our Pumpkin Ravioli.  This dish is dressed with delicious brown butter with a hint of tanginess from the fine balsamic vinegar used in this recipe.  Served as a side or a main dish, this pasta makes a quick and delicious autumn dinner after a day of apple picking.  Mangia!
Fly Eagles fly! 
Whether you're a college football fan or love cheering (or jeering) for the hometown favorite, the Eagles, we have just what you need to make your tailgate or game day at home extra festive.  Nonna's Chicken Cutlets are always a hit- serve them with fresh rolls, roasted peppers, tomatoes, cheese, and dressings and have everyone make their own favorite sandwich!  
But, if it's not game day without some buffalo spice, you'll want to pick up our buffalo chicken bites for just the right amount of heat and spice paired with blue cheese dressing. We also have some great buffalo chicken dip that is always a crowd-pleaser!   
Happy Birthday to so many of you!
Doesn't it seem like everyone you know is celebrating a birthday now?  That may be because in Pennsylvania the highest number of birthdays are celebrated from late September through mid-October. So, plan ahead and order that special person's favorite cake today and customize it for a real celebration.