September means back to school and back to the routine for lots of us.  With the summer harvest in full swing, you can find just about anything fresh you need at Sam's to make your back-to-school and back-to-routine time even tastier.  That's because we continue to support local farms with our regular trips to the Lancaster region where we are hand-selecting the freshest produce for you to enjoy.  
And, although the weather stays warm for a while here, the cooler temps are coming and that means more hearty meals.  We have just what you'll need for preparing quick and satisfying meals for your family and friends this fall.  
Here's what's happening at Sam's…
Not your Mom's Fruit Salad 
The summer weather has been perfect for many of the local crops but especially now for the cantaloupe, tomatoes, and white peaches.  While you may have your favorite ways to enjoy each of these, fruit in a salad or as an appetizer is refreshing and unexpected.   Here are some that are worth a try!
Cantaloupes
This Cantaloupe Tomato Salad recipe is perfect for incorporating these ingredients into a salad that is a surprise hit for lunches and dinner.  You'll find all these ingredients at Sam's this season including high-quality fresh mozzarella. 
And, if you're looking for a different appetizer to serve or bring to a party, this classic skewer featuring cantaloupe and prosciutto is always a hit.  You can switch it up by trying different combinations- like adding cucumbers or mint, too. 
Peaches
Fire up the grill and slice the peaches!  This recipe will become a favorite- because the flavor combinations in this Grilled Peach and Burrata Salad are so unexpected and delicious.  Make it your own by adding prosciutto, smoked salmon, or pine nuts.  So good and no need to heat up your kitchen on a warm September day.  
If you love a Caprese salad, you'll want to try this recipe. Peaches and tomatoes team up to make this Tomato Peach Toast a great brunch, lunch, or dinner choice.   
No matter how you use these gems of the summer harvest, you can't go wrong.  And, if you're like me, I think one of the best ways to enjoy this ripe produce was best sung by Weird Al-  just eat it!  

Honey, I'm home!
Whether it's a return to the office or a return to school- or both- this Fall, we have got you covered with quick and delicious dinner plans.  
Check out our fresh pre-packed meals in our refrigerated case for a quick lunch or dinner.  The heat-and-eat pasta entrees are always great to have ready for your hungry crew- perfect for after school, after practice, or a late-night at the office.  Remember to get the chicken cutlets, too. Our versatile cutlets work overtime for you as an easy and favorite entree paired with pasta, the topping on a fresh salad, or on a sandwich served up with one of our classic rolls and your favorite cheese (I recommend sharp provolone) and toppings.
Lastly, you'll be fully prepared for the busy days ahead when you stock up on our freezer options like lasagna, chili, and chicken parmigiana. Buon appetito!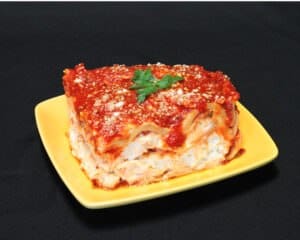 What's for lunch?
We are seeing indicators that there will be a shortage of a number of items this Fall due to the pandemic, including lunch meats.  We are working tirelessly to be able to provide you with top-quality products.  Please be mindful that we won't lower our quality standards and rising prices are an effect of this shortage. 
An example of this is the unavailability of your favorite flat imported soppressata. We have been working for months trying to source this item to no avail.  However, we will continue to work to find high-quality, affordable, and available items for you.  We thank you for your support and are happy to answer any questions regarding these issues.
__________________________________________________________________
Sam's Italian Market & Bakery is a family-owned Philadelphia institution. Since our first store in the Olney section of Philadelphia, which opened in 1961, we have provided our local community with high-quality ingredients and prepared foods, steeped in our family's traditions.  Located at 3504 West Moreland Road in Willow Grove since 1977, we continue to provide delicious, high-quality food, including lunch, catering, prepared foods, and bakery and pastries – with unparalleled service for our customers!