Can you believe it's March?  We are excited to start the 3rd month of the year and we look forward to Daylight Savings Time, St. Patrick's Day, March Madness, the first day of Spring, St. Joseph's Day, and Easter (which yes, we know is in April but we're planning now!). There's so much deliciousness going on in the store in March!
St Patrick's Day
Have you tried Sam's homemade pistachio walnut bread? Our pistachio walnut bread is the perfect bread/cake combo; it has a unique pistachio flavor and it has natural peppermint green color for the luck of the Irish!  Also from our kitchen freshly prepared Shepherd's Pie! Pick yours up today – we will have it available through St. Patrick's Day.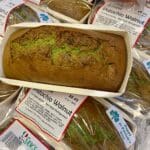 Can you guess what Family Meal we are featuring this month? Corned Beef and Cabbage! We slow cook our tender corned beef brisket and serve it with seasoned carrots, cabbage, and potatoes.  We add a horseradish sauce for a special kick.  
Don't forget our St. Patrick's Day cupcakes.  Make your friends and family smile!
March Meatball Madness
It's finally here. March is Meatball Madness here at Sam's Italian Market. We make our meatballs in-house, using fresh ground beef.  We season them to perfection and simmer them in our homemade marinara sauce.  Take $1.00 off 9-count containers and $2.00 off 20-count containers.  We know they're a slam dunk! March Madness is from March 18 through April 5 and Meatball Madness will run March 1-April 5.  Pick some up in our freezer section today!
St. Joe's Cake
St. Joseph's Day falls on Friday, March 19th, and we've got the ever-popular, crowd-pleasing  St. Joe's Cake available in store now. For those that might not know, our St. Joe's cake is a traditional French crueler, filled with either ricotta cream or vanilla custard and topped with a cherry, just like in Italy.  Due to the high demand for these sweet treats,  St. Joe's Cakes must be ordered in quantities of four or more. Contact us to place your order today!
Easter 
Easter is early this year (April 4th) so we will begin offering Easter items in March. We are offering a Heat & Serve Easter Meal for Saturday (4/3) pick-up.  See our Easter flyer here and either turn it in at the Deli or call to place your order.  The meal feeds 6-8.
Starting on Palm Sunday weekend, we will be offering our Easter Bread and Ricotta Pies.  Our Easter Bread is a soft, sweet bread made with lemon zest, with color nonpareils on top.  This delicious, festive, and bright bread for your Easter table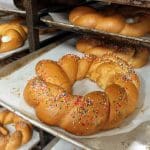 Our Ricotta pies are made with ricotta cheese, eggs, anisette, lemon, and sugar.  Reserve yours today! We offer them in 8" and 10" sizes.  
Our homemade quiche is so decadent.  They're made with a flaky pastry crust and a fluffy filling.  We offer 9 types!.  They're 10 inches and they range in price from $16.99 (for veggie) to $19.99 (seafood). 
Sam's Italian Market & Bakery is a family-owned Philadelphia institution. Since our first store in the Olney section of Philadelphia, which opened in 1961, we have provided our local community with high-quality ingredients and prepared foods, steeped in our family's traditions.  Located at 3504 West Moreland Road in Willow Grove since 1977, we continue to provide delicious, high-quality food, including lunch, catering, prepared foods, and bakery and pastries – with unparalleled service for our customers!