Sam's Italian Market opened its doors in Willow Grove in December 1977.  This is our 43rd year in our current location.  This coming Christmas just might be the weirdest one we've ever seen but we are still here to help your family celebrate, no matter how things look this year. You can still let Sam's do the heavy lifting so you can enjoy yourself to the fullest!
Two Person Christmas Meals
We are pleased to offer Two Person Christmas Meals this year.  We have 4 options, for $21.99 each. These are available for pick-up only on Thursday, 12/24. 
Roasted Turkey:

Turkey in gravy, with garlic string beans, mashed potatoes, and cranberry sauce.

Off the Bone Ham:

Ham with pineapple glaze, sweet potatoes, peas, and carrots. 

Top Round Beef:

Roast beef with gravy, mashed potatoes, and garlic green beans. 

Lasagna Trio:

4 beef meatballs, a piece of cheese, a piece of meat, and a piece of spinach lasagne  
Call us today to place your order! 215-657-3666
Feeding More People
We also offer trays of many kinds. We've got appetizers from our Shrimply Marvelous tray to our crowd-pleasing Arancini Tray (your choice of rice, beef, or asiago & spinach) to our Antipasto Tray. We have mains, including Chicken Marsala, Chicken Cutlet, and Lasagna trays. You might opt to do finger foods, such as Stromboli, or mini sandwiches.  And don't forget to add something sweet, like our Cannoli DipTray, our Cookie Tray, or Mini Pastry Tray.  Check out our menu here.    
U.S.D.A. Choice Meat
Sam's only offers U.S.D.A. Choice meat.  Whether your family prefers a bone-in rib roast, porchetta pork roast, ham, or something different, we have you covered. The last day to place your order for meat in time for Christmas is Friday, 12/18.  Place your orders over the phone or come in, say hello, and order at the deli counter.  Our staff is happy to offer suggestions and cooking instructions to help guide you.
New Year's Eve 
Another tradition in our family is that we always have pork on the menu for New Year's and we will tell you why:  Legend says that pigs root forward, chickens scratch backward and a cow stands still.  So, for the New Year, you definitely want to look ahead, hence the addition of pork to your menu!  Check back with us as we will be offering a 2 person pork roast meal for New Years'!
Sweet Treats
Delight the kiddos and the kiddos in all of us with a Santa Claus Cake. Made with vanilla cake and buttercream frosting who wouldn't like this on their holiday table?
Our Ricotta Cookies are incredibly soft with a tender texture.  
Our Cannoli Dip is a crowd pleaser!  It's like a dessert hors d'oeurves!
Our Pignoli Cookies studded with golden pine nuts and are made with almond paste They are moist, soft, and chewy. A Christmas favorite! 
Another Italian favorite Italian tradition is our Struffoli, which is mouthwatering fried dough balls dipped in honey and sprinkled with non-perils. We dare you to try to eat just a few.  
And of course, the Gingerbread men are back!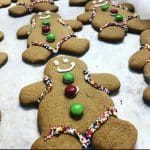 We Can Help! 
Whether it's for Channukah, Christmas, New Year's, or any celebration, count on Sam's Italian Market to help keep your family and friends full and happy.  Contact us today to talk about your next celebration.  
Sam's will be closed Christmas Day & New Year's Day so we can spend the day with our loved ones. 
Sam's Italian Market & Bakery is a family-owned Philadelphia institution. Since our first store in the Olney section of Philadelphia, which opened in 1961, we have provided our local community with high-quality ingredients and prepared foods, steeped in our family's traditions.  Located at 3504 West Moreland Road in Willow Grove since 1977, we continue to provide delicious, high-quality food, including lunch, catering, prepared foods, and bakery and pastries – with unparalleled service for our customers!