Talking Turkey
Can you believe Thanksgiving is fast approaching?  This has been the longest, quickest year ever. Sam's Italian Market loves Thanksgiving because it combines a few things we love most in the world: being with those we love and really good food. And we don't want to brag, but we are definitely experts in all things Thanksgiving, so let us help you with yours.  We can provide a little help, like providing juicy, delicious, and fresh turkeys, or a lot, like providing an entire meal that you can heat and serve. No matter what, our goal is for you to relax and be with your loved ones. 
Turkey is the star of most Thanksgiving dinners.  This year, our turkeys are $3.49/pound.  They are raised locally in Lancaster Pennsylvania on Loag's Corner Turkey Farm, which is only about 40 miles from our store.  The Loag's family has been raising turkeys for over 3 decades.  Their turkeys are always fresh, never frozen, and all-natural, without any antibiotics or additives.  The last day to place your turkey order is November 8. As always we will have turkeys on hand, but to guarantee you get the size you want we recommend ordering ahead.  You can order your turkeys at our deli counter or call us today to place your order.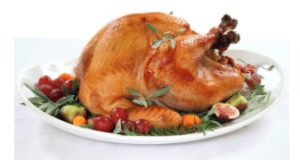 Of course, we also offer  U.S.D.A. CHOICE Meats Freshly cut by our butcher!  We have Filet Roast, Prime Rib Roast, Crown of Pork Roast, Pork Loin Roast (seasoned or unseasoned), Porchetta Pork Loin Roast (seasoned with rosemary, garlic, parsley, and salt), and Alderfer Spiral Cut Hams, and ready-to-eat or add a glaze. (Note: 7 day's notice required for all special cuts.)
Don't forget the option of letting us cook your Thanksgiving Dinner for you.  Yes, you can do it all, but you don't have to! You can order our dinners up until November 13th.  Our dinners feed 8-10 guests and include all the fixin's to make your holiday stress-free, so you can spend less time at the stove and more time with your loved ones.  Click here to see the full menu.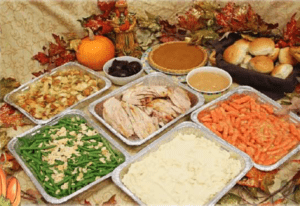 Please note, we are closed on Thanksgiving Day so meals must be picked up Wednesday and reheated on Thanksgiving Day.  Also, meals must be heated by you. 
Sweets & Treats
We make all of our pies and desserts in-house.  We offer everything from traditional pumpkin to Very Berry to mincemeat pies and pecan pies. Folks love our Apple Crumb Torte. The last day to order desserts is November 20th.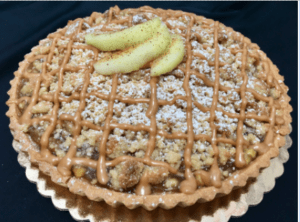 Want an awesome centerpiece? Check out our Turkey Cake Centerpiece.  It's always a hit with the kids and kids at heart. 
Sam's Italian Market & Bakery is a family-owned Philadelphia institution. Since our first store in the Olney section of Philadelphia, which opened in 1961, we have provided our local community with high-quality ingredients and prepared foods, steeped in our family's traditions. Located at 3504 West Moreland Road in Willow Grove since 1977, we continue to provide delicious, high-quality food, including lunch, catering, prepared foods, and bakery and pastries – with unparalleled service for our customers!