Grinder, sandwich, sub, hero, torpedo — what do you call yours? Here at Sam's Italian Market and in the rest of Philly, we call 'em hoagies!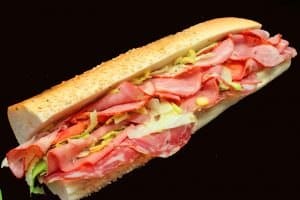 September 14 was National Eat a Hoagie Day.  Since Sam's Italian Market won Best Deli in the the PHL17 Top Spots last year, they invited Sam's to join them to celebrate.  Hopefully you caught it live on air, but just in case you didn't, we have included the video here for your viewing pleasure.  
What sets Sam's apart from other delis?  We make our own bread, in store, every single day.  We use the best meats and the best cheeses.  Our hoagie construction is unique because we wrap the veggies with meat so it's the perfect meat and veggie ratio. We drizzle the whole hoagie with our special dressing which by the way, you can buy in store.  The best ingredient though? Sam's makes our hoagies with LOTS of love. 
Check out our video from PHL17.
Check out our hoagie menu here and call us today to place a hoagie order so it's ready when you get here!