As one of the strangest summers we have ever spent is slowly heading to a close (3  weeks and counting!) Sam's Italian Market is here for you.  From the freshest local produce to simple meals and not-so-simple cakes, check out what's in store and let us know how we can help!  
Back to School 
The kids may be back in school full-time, remote, or some sort of hybrid, but no matter what, we're hearing that 6 months into this pandemic, most folks have never cooked more in their lives!  Don't worry, we got you.  Sam's has a selection of premade, family meals that you can count on to feed your family and give you a break from cooking.  Pick up yours today, heat and serve.  Win-win. 
Don't forget to check out Sam's deli meat selection and homemade rolls for your school lunches.  Make your own hoagie OR come in and let us make one for you.  Check out the menu here to see all the tasty options you can imagine. Call ahead and place your order so it's ready when you arrive.  
It's Tomato Time!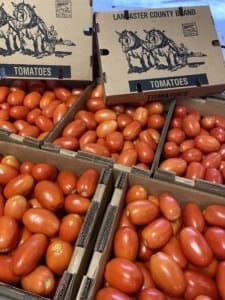 Tomatoes are at their absolute peak right now. Ours are local, from Lancaster, and they're the perfect combination of sweet with just the right amount of tang.  
We like to make a mouthwatering Caprese salad and serve it with a crusty loaf of bread for a simple but excellent late summer meal that tastes as good as it looks.  (It also takes next to no time at all and does not require an oven.)
Ingredients: 
4-5  tomatoes, sliced about ¼ to ½ inch thick

Mozzarella, sliced about ¼ inch thick

A handful of fresh basil leaves, washed and torn

Good quality, extra virgin olive oil

(

might we suggest Diamante Verde brand  available in store for $12.99 a liter)

Balsamic vinegar

Flaky sea salt

Freshly ground pepper
Method: 
Rotate tomatoes and mozzarella on a platter.  Sprinkle with torn basil leaves.  Drizzle with olive oil and Balsamic vinegar.   Sprinkle with salt and pepper. Serve with a freshly baked loaf of bread from Sam's Italian Market and you've got yourself a simple dinner! 
How do you like to eat your late summer tomatoes?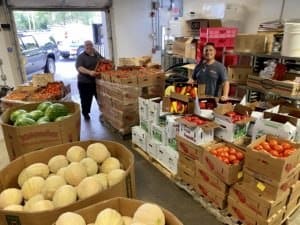 Our very own Adam along with our cousin Frank, bringing tomatoes directly from the farm in Lancaster to Sam's Italian Market!
Cake
Sam's own talented and creative bakers are here to make any celebration personalized. Contact us today to talk about a custom cake for the person celebrating a milestone in your life.   We can make almost anything! 
Our famous Cannoli Cake is a great option for larger gatherings!
Our famous pumpkin rolls are back in season!  Made with real cream cheese icing it's sure to please the pumpkin lovers in your life. 
Sam's Italian Market is here for you, whether it's a hoagie tray for a Sunday afternoon football game, a custom cake for that special someone, or an easy family meal to give you a break.  Come visit us and let us help you! 

GO PHILLIES!  
_____________________________________________
Sam's Italian Market & Bakery is a family-owned Philadelphia institution. Since our first store in the Olney section of Philadelphia, which opened in 1961, we have provided our local community with high-quality ingredients and prepared foods, steeped in our family's traditions.  Located at 3504 West Moreland Road in Willow Grove since 1977, we continue to provide delicious, high-quality food, including lunch, catering, prepared foods, and bakery and pastries – with unparalleled service for our customers!