It's hard to believe that we're approaching the end of July.  The best thing about this? Fruits and veggies!
 Summer Fruits and Veggies
Perfect, juicy, sweet, and delicious. Summer is when fruits and vegetables are at their peak and taste their best. Why is this you might wonder?  This is the time of year your produce spends the shortest amount of time traveling from the farm to your table. Sam's Italian Market has fresh Lancaster cantaloupe,  tomatoes, local, super sweet corn, and juicy, refreshing watermelon.  Is your mouth watering yet? 
Locally grown Lancaster corn is tender, bright, and buttery! 
Locally grown juicy, antioxidant-rich cantaloupe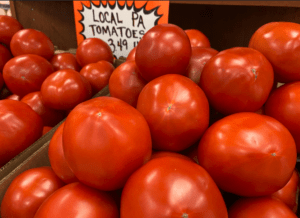 Locally grown, juicy Lancaster tomatoes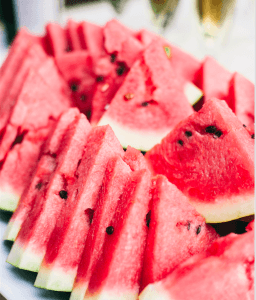 Refreshing, cool, and sweet watermelon.
Meat Lovers
Come grab a couple of racks of our BBQ baby back ribs, which are ready to heat and eat. We also have plenty of items to BBQ, including fresh steaks, chicken legs and thighs, and Impossible Burgers for vegetarians!  
Sam's Own
You don't have to spend hours in the kitchen to make an appetizer.  We have you covered with Sam's French Onion Dip!  Grab our very own French Onion Dip Mix.  Stir 3 tablespoons with sour cream.  Serve with your choice of crackers, bread, or veggies.  (Note: you can also add French Onion Dip mix to salads, including tuna, macaroni, egg, or potato! Yum!)
In addition to our French onion dip mix, we are also offering vanilla extract for your baking needs.
Sam's Vanilla Extract, 2oz bottle $11.99
Sweet Treats
Remember Sam's for all your summer sweets needs.  We make custom decorated sheet cakes, ranging from a full sheet cake to a ¼ sheet cake or  9" round cake.  Call us today to talk about your dream custom cake.   
We also offer shortcakes, fruit tarts, and more! 
_____________________________________________________
Sam's Italian Market & Bakery is a family-owned Philadelphia institution. Since our first store in the Olney section of Philadelphia, which opened in 1961, we have provided our local community with high-quality ingredients and prepared foods, steeped in our family's traditions. Located at 3504 West Moreland Road in Willow Grove since 1977, we continue to provide delicious, high-quality food, including lunch, catering, prepared foods, and bakery and pastries – with unparalleled service for our customers!