School's likely winding down and the weather is heating up.  Summer might look different this summer compared to years past, but Sam's is here to help you make the most of your June.
Graduations
Like summer, graduations might look a little different this year, too, but that doesn't make them any less important. Graduation is a huge milestone that deserves to be celebrated.  Let Sam's help make your celebration special.  Contact us to place an order for one of our always-crowd-pleasing, customized cakes.  We offer sizes ranging from 9-inch to a full sheet cake.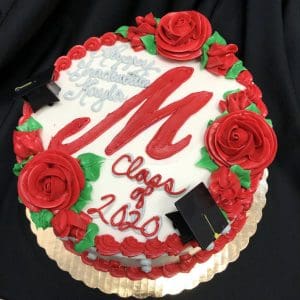 Father's Day
Father's Day is Sunday, June 21.  What are you doing for your dad?  Does he like to grill? Or better yet, what if you grill for dad?  Sam's has new seasoning mixes that you can use to season your meat or make summer dips and dressings.  Dad will love them – and you will, too-  so it's a win-win! We offer Choice meat selections, cut by our in house butchers with rotating weekly specials.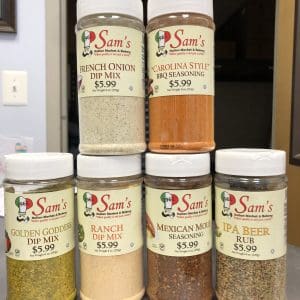 Strawberry shortcake is also a great addition to your Father's Day Meal. Our strawberry shortcake is freshly made in our bakery.  We take layers of vanilla cake and fill them with fresh strawberries, finishing the whole thing off with whip cream and fresh-cut strawberries.
Summer Specialties
Did you know that we make all of our desserts in house? Everything you see in our bakery is made by hand.  And, certain desserts scream summer, like lemon bars, strawberry rhubarb pie, strawberry shortcake, and more.
Rhubarb is in season for a short time and we're excited to offer our strawberry rhubarb pie.  We take our buttery homemade crust and fill it with a perfect combination of tart rhubarb and sweet, juicy strawberries.
Our lemon bars are back, too! Enjoy the bright and tangy, sweet lemon curd, dusted with powdered sugar, along with our delicious shortbread base.
Family Meals
Most of us have never cooked more than we are cooking now.  If you're tired of cooking — or even better, tired of dreaming up what to cook — Sam's has got you covered!  Try our Stay-at-Home Special! (24 hours notice please!)
Andra tutto bene!' (Everything will be okay!)
Our thoughts and prayers are with all the families affected and the frontline workers. Special thanks to our very own dedicated staff at Sam's.  Remember, Sam's is happy to serve you during this unprecedented time. We'd love to see you — just remember to wear a mask when visiting our store.
Sam's Italian Market & Bakery is a family-owned Philadelphia institution. Since our first store in the Olney section of Philadelphia, which opened in 1961, we have provided our local community with high-quality ingredients and prepared foods, steeped in our family's traditions.  Located at 3504 West Moreland Road in Willow Grove since 1977, we continue to provide delicious, high-quality food, including lunch, catering, prepared foods, and bakery and pastries – with unparalleled service for our customers!