The days are getting longer and the weather is getting warmer.  While May 2020 might be different than Mays prior, Sam's Italian Market is here for you!
Mother's Day
Are you ready to celebrate the moms in your life? Sam's is ready to help. you show mom how much you love her with lots of in-house baked goods and treats.  Even if you're socially distancing from mom, you can still show your love by dropping off a cake or some home-baked treats!
Nothing says spring quite like our strawberry shortcake, which is freshly made in our bakery.  We take layers of vanilla cake and fill them with fresh strawberries, finishing the whole thing off with vanilla icing and fresh cut strawberries.   
9-inch Strawberry Shortcake: $24.99
Or perhaps you want to dazzle mom with our fresh fruit tortes!  We take a buttery tart shell and fill it with vanilla pastry cream and top it with seasonal fresh fruit.  It's almost too pretty to eat. 
Fresh Fruit Tortes: 9-inch $21.99 and 4-inch $5.00
Call us or stop in to place your dessert order for Mother's Day today as a limited supply will be made!
Custom Cakes
Don't forget: Sam's also makes custom cakes. Call us today to talk about what you need and one of our bakers can help you create the perfect cake for any occasion.
Family Meals
Most of us have never cooked more than we are cooking now.  If you're tired of cooking — or even better, tired of dreaming up what to cook — Sam's has got you covered!  In light of these hard times, Adam and Dino have decided to offer two different dinner specials at a discounted rate. (24 hours notice required.)
Stay-at-Home Special #1: 
Stay-at-Home Special #2: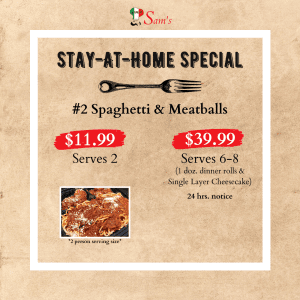 We offer lots of options in our frozen grab-and-go case. And remember, just because our meals are freshly made, it doesn't mean you can't freeze them. So stock up!  Some of our popular items are our housemade lasagna and our Italian wedding soup.  You can also grab a pint or quart of sauce to add to spaghetti for a simple and delicious meal.  
Hard-to-Find Items
Think of Sam's when you're looking for those items not easily found in supermarkets.  We are stocked with eggs, yeast and flour.  We even have toilet paper, paper towels, and bleach. 
'Andra tutto bene!' (Everything will be okay!)
Our thoughts and prayers are with all the families affected and the frontline workers. Special thanks to our very own dedicated staff at Sam's.  Remember, Sam's is happy to serve you during this unprecedented time. We'd love to see you — just remember to wear a mask when visiting our store.  
Sam's Italian Market & Bakery is a family-owned Philadelphia institution. Since our first store in the Olney section of Philadelphia, which opened in 1961, we have provided our local community with high-quality ingredients and prepared foods, steeped in our family's traditions.  Located at 3504 West Moreland Road in Willow Grove since 1977, we continue to provide delicious, high-quality food, including lunch, catering, prepared foods, and bakery and pastries – with unparalleled service for our customers!