February (February 5th to be exact), drops us smack dab in the middle of winter.  It's cold, and the days are short and often gloomy. Spring can't come soon enough.  But! There's good news too because there's a lot to look forward to in February. For example, the Super Bowl and Valentine's Day, too!  Sam's Italian Market is here for your football watching and Valentine's Day needs. 
SUPER BOWL
Yes, it would be better if the Eagles were in it, that's a given.  But, unfortunately, they aren't. Chances are though, you're still going to watch it. The commercials alone are usually worth it. Why not have a little party?  Entertaining for the game is easy. Get your invites done and then decide what get ready to feed your friends. From cupcakes to cheese platters to our Hoagie Box, we'll make sure your spread gets cheers from everyone. 
Check out our catering menu here or of course, feel free to come in and talk to anyone at the deli counter.  We're happy to help customize and plan your gathering.   
A great, easy crowd-pleaser is the Hoagie Box! It comes with 10 Hoagies cut in 2 or 3.  You can choose from Italian, Turkey, Roast Beef, Tuna, Chicken Salad or Ham. We also offer a variety of hoagie and "Sam-wich" options to choose from.  A fun and show-stopping option for 12-15 guests is our Three Foot Hoagie! Just remember to share it! And then, add items like potato salad, and mac and cheese for a complete meal.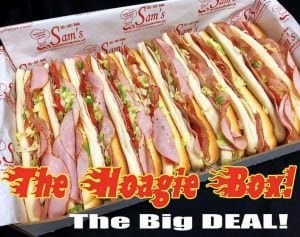 Another crowd favorite? Our Jumbo Chicken Wings. We bake them to perfection in-house and they're delicious.  You can get them in Italian Hot or Tangy BBQ. And of course, our 5 Cheese Macaroni is always a great accompaniment to the wings.
VALENTINE'S DAY
Love is in the air — can you feel it?  At Sam's, we believe that the way to someone's heart is through their stomach!  Don't forget to show your loved ones how much you care with one of our Valentine's Day treats, which are lovingly made by hand, in our very own kitchen.
We offer two different Heart Cakes — one is vanilla cake with buttercream icing and one is a chocolate cake with fudge icing. The Heart Cakes are $12.99 and feed 4-5 people.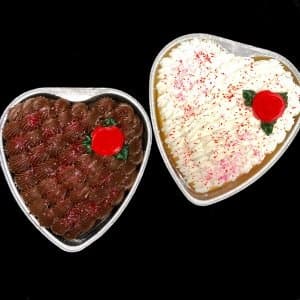 We also offer our Love Cake, which is an irresistible sweet ricotta and vanilla cake topped with whipped cream, available with or without chocolate chips.  The Love Cake feeds 8-10 people and costs $15.99
If you have a smaller group or a group with different tastes, pick up an assortment of sweet treats. Prices range from $1.75-4.00 each. There's our traditional cupcake for the kiddos, and a few new items this year, too:
Peanut Butter Bars: Luscious peanut butter with a rich chocolate layer the bars are the dream combo everyone loves!

The Triple Chocolate Tower is for serious chocolate lovers only, with chocolate cake, chocolate custard, and chocolate mousse and finished with a fudge icing.

Raspberry Linzer Cookies which are buttery shortbread cookies sandwiched with a sweet raspberry jam filling.

The Almond Horn is a horseshoe-shaped crescent with a crunchy almond coating, and a moist and chewy interior finished off with a dip of chocolate on each side.
We are accepting pre-orders through Friday, February 7 to guarantee your order.  We will also have some available to pick-up. These make a great gift for teachers, who can share with their family (or perhaps they opt to keep the cake all for themselves – we will never judge or tell).  
Call us to order your sweet treats today: 215-657-3666
Maybe, just maybe you or your loved one, is one of those rare folks who do not like sweets? You can also show love with our Sweetheart Steaks, which are USDA choice Delmonico steaks.  Delicious!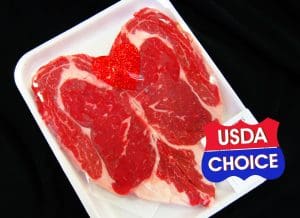 NEW AT SAM'S IN FEBRUARY
We are focusing on family meals this month.  We believe eating as a family is important but it doesn't mean you have to cook!  Let Sam's cook, so you can spend more time enjoying your loved ones.  
Featured Family Meal of the Month: 
February's featured Family Meal is our home-cooked, succulent spiral ham with pineapple sauce, honey glazed carrots, and mashed potatoes! This is available all month for $19.99. Pick one up today–you will not be sorry. 
Another Family Meal our kitchen is excited about their newest, The South of the Border Turkey Meatloaf! It's sure to liven up — and simplify —  your weeknight meals! We've paired the meatloaf with yummy rice and corn. This is sure to please all the eaters in your family. You can find this in our Family Meals section.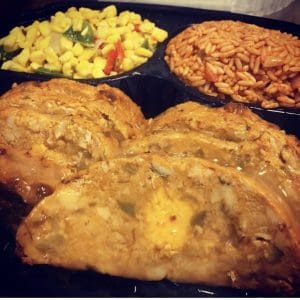 WHAT'S NEXT?
March is Meatball Madness here at Sam's Italian Market. We make our meatballs in house, using fresh ground beef, which we season to perfection and simmer in our homemade marinara sauce. Take $1.00 off 9-count containers and $2.00 off 20-count containers. We'll be offering samples on weekends, so come give them a try–we know they're a slam dunk!
Sam's Italian Market & Bakery is a family-owned Philadelphia institution. Since our first store in the Olney section of Philadelphia, which opened in 1961, we have provided our local community with high-quality ingredients and prepared foods, steeped in our family's traditions.  Located at 3504 West Moreland Road in Willow Grove since 1977, we continue to provide delicious, high-quality food, including lunch, catering, prepared foods, and bakery and pastries – with unparalleled service for our customers!