Welcome to the 1st Sam's Corner post of 2020. We don't know about you, but our holidays sure did fly by and here we are, a week into 2020. Here's to a brand new year, new goals, and delicious food shared with friends and family. Thank you for allowing Sam's to be a part of your life!
Let's watch the game!
Our beloved Eagles lost to the Seahawks this past Sunday and we're not gonna lie, we're bummed.  However, we still have high hopes for the 76ers and the Flyers.  Both teams are 5th in their divisions at the time I'm writing this post. 
Have your friends over to watch the Sixers or the Flyers, and let Sam's provide the food.  Check out our catering menu here or come in and talk to us. Our Hoagie Box comes with 10 Hoagies cut in 2 or 3.  You can choose from Italian, Turkey, Roast Beef, Tuna, Chicken Salad or Ham. We also offer a variety of hoagie and "Sam"wich options to choose from.  A fun and show-stopping option for 12-15 guests is our Three Foot Hoagie, then add items like potato salad and mac and cheese for a complete meal.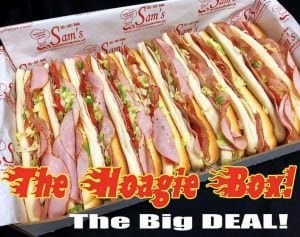 Let us cook
This time of year is hectic and you're racing around, trying to get it all done.  Remember our freezer section has tons of delicious meal options that you'll love because of the time saved and your family will love because it tastes amazing!. Pick up a tray of our delicious, housemade Italian wedding soup.  Pair it with a crusty baguette and a nice bottle of wine and you've got yourself a simple, yet cozy and completely satisfying winter meal. Pick up other items from our freezer section, including meatballs, sauces, and entrees.  There's something for everyone. And a time bunch of time back for you. 
Hoagie of the month: 
Big news! This month we are featuring not one, but two spotlight sandwiches:  First, we have our Mozzarella Sandwich. It comes on our of our house-made rolls and has fresh Mozzarella, juicy roasted peppers, and tasty broccoli rabe.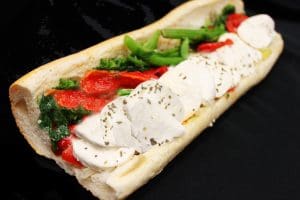 Second, we have our Grilled Veggie sandwich, which is also served on our house-made bread with eggplant, red bell peppers and red onion grilled to perfection with your choice of cheese.  Who says meatless is boring? Not us!  
Sam's Italian Market & Bakery is a family-owned Philadelphia institution. Since our first store in the Olney section of Philadelphia, which opened in 1961, we have provided our local community with high-quality ingredients and prepared foods, steeped in our family's traditions.  Located at 3504 West Moreland Road in Willow Grove since 1977, we continue to provide delicious, high-quality food, including lunch, catering, prepared foods, and bakery and pastries – with unparalleled service for our customers!