Buone Feste!
Did you know that Sam's Italian Market has been around since 1961?  42 years ago, on December 15, 1977, Sam's Italian Market first opened our doors in Willow Grove.  Over the course of all these years, our family has always strived to help your family have the best and most delicious holidays possible.  Let us do the heavy lifting and take the pressure off so you and yours can enjoy yourselves to the fullest! 
Family Favorites
One of our family favorites and an Italian Christmas Eve staple is the Feast of the 7 Fishes. Sam's carries everything you need to make yours! We have Smelts, Baccala (dry cod), Shrimp, Squid, Calamari, Crab, Clams and of course, our famous Baccala Salad.  The Baccala Salad recipe is a Mele Family Favorite! Sam's wife Martha brought the recipe from Calabria, Italy to the US and we still prepare it the same way: we soak the Baccala in water for a few days, then added fresh vegetables, olive oil, and salt. Simple ingredients that have endless amounts of flavor!
Another tradition in our family is that we always have pork on the menu for New Year's and we will tell you why:  Legend says that pigs root forward, chickens scratch backwards and a cow stands still.  So, for the New Year, you definitely want to look ahead, hence the addition of pork to your menu!  
In addition to seafood and pork, remember that Sam's only offers U.S.D.A. Choice meat.  Whether your family prefers a bone-in rib roast, porchetta pork roast, ham, or something different, we have you covered. The last day to place your order for meat in time for Christmas is Sunday, 12/15.  Place your orders over the phone or come in, say hello, and order at the deli counter.  Our staff is happy to offer suggestions and cooking instructions to help guide you.
Sweet Endings
Last but definitely never least, do not forget dessert!   Our bakers will be baking around the clock to make lots of our famous bread, rolls, tomato pie, or pastries for your special feast.  
Some of our housemade favorites include: 
Our Ricotta Cookies are incredibly soft with a tender, texture.  
Our Cannoli Dip is a crowd pleaser!  It's like a dessert hor'dourves!
Our Pignoli Cookies studded with golden pine nuts and are made with almond paste They are moist, soft and chewy. A Christmas favorite! 
This year we are excited to offer our Santa Claus Cake, which is available in vanilla or Marble cake. It's sure to put a smile on everyone's face. 
Another Italian favorite Italian tradition is our Struffoli, which is mouthwatering fried dough balls dipped in honey and sprinkled with non-perils. We dare you to try to eat just a few.  
A very special Christmas panettone is back this year, which is a creative collaboration between Dolce and Gabbana (yes *the* Dolce and Gabbana) and Fiascanaro, Sicily's premier confectionery.  One is made with pistachio and comes with a jar of pistachio cream and a knife with which to spread it and one is their take on the traditional panettone. Both are ridiculously rich and oh so yummy.  They also make beautiful gifts or housewarming presents. Stock up on them before they're gone.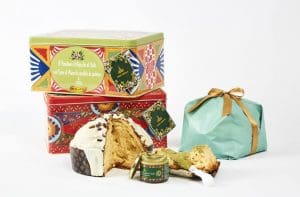 We also offer Italian nougat, called torrone because we believe there's no such thing as Christmas without it. And of course, the Gingerbread men are back!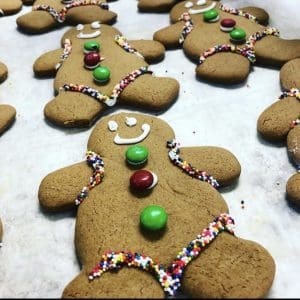 We Can Help! 
Whether it's for Channukah, Christmas, New Year's or any celebration, we will also have beautiful party trays for any Holiday celebration – including our house-made lasagna, chicken marsala, or arancini (our mouthwatering rice croquettes) which will make your family and friends full and happy.  Contact us today to talk about your next celebration.  
Hoagie of the Month
This month's hoagie is the Italiano Tuna which has imported Italian tuna in olive oil and mild provolone on a homemade, fresh-baked seeded hoagie roll.
Sam's will be closed Christmas Day & New Year's Day so we can spend the day with our loved ones. 
Sam's Italian Market & Bakery is a family-owned Philadelphia institution. Since our first store in the Olney section of Philadelphia, which opened in 1961, we have provided our local community with high-quality ingredients and prepared foods, steeped in our family's traditions.  Located at 3504 West Moreland Road in Willow Grove since 1977, we continue to provide delicious, high-quality food, including lunch, catering, prepared foods, and bakery and pastries – with unparalleled service for our customers!