Sam's is proud and honored to have been named the #1 Deli by PHL 17 Top Spots, a customer nominated and viewer voted contest. Described as "THE PLACE where your debates are settled and the Best of the Best are recognized by YOU," the folks in the area! We could not be where we are today without our loyal customers who support us. We are thrilled! Thank you. Go here to see the rest of the winners.
Back to school blues? Or, if you're a parent, you might be elated.
Regardless of your feelings about the start of the school year, let Sam's help your family out. Need a quick meal for after soccer practice or dance class? We have prepared family meals, you can pick up for dinner, right from our grab n go. Take one home, heat it up and feel good about feeding your family a real meal! There's something for everyone, from chicken parm, spaghetti and meatballs to salmon in butter sauce. There are also our favorites, such as our stromboli, tomato pie or quiche for a simple, satisfying meal.
As you know, it's Pumpkin Spice season… everywhere! Pumpkin is #trending. New to Sam's is the Nutty Novelties line. We have Pumpkin Spice Peanut Butter! It's a locally made in Telford, PA! Pumpkin Spice Peanut Butter is a creamy peanut butter made with real pumpkin and just enough pumpkin spice.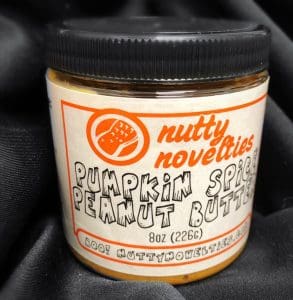 We also offer their Habenero, Butterscotch, Original PB, Dark Chocolate Almond Butter. (Our personal fave is the Dark Chocolate Almond Butter. Certain members of our team may or may not eat it out of the jar, with a spoon.)
In addition to school, it's also time for football. Don't forget to check out our catering menu for food options that will please your football friends.
Football leads us to our Hoagie of the Month, which is right in time for football season. The Big N Crusty, is perfect for friends to share. This crowd pleaser is made on a Sam's fresh baked loaf of crusty Italian bread. All come with lettuce, tomatoes, onions and roasted peppers. Small Loaf is $19.99 and serves 4 guests; the Large Loaf is $29.99 and serves 6 guests.
We offer the Big N Crusty 4 ways, in two sizes:
Italian – Salami, mortadella, hot regular capicola, with mild provolone.
Ham – Imported ham, and your choice of cheese.
Turkey – Sam's oven roasted turkey breast, and your choice of cheese.
Roast Beef – Original oven roasted or Italian style and your choice of cheese.
Pre-order your Big N Crusty today!
Sam's Italian Market & Bakery is a family-owned Philadelphia institution. Since our first store in the Olney section of Philadelphia, which opened in 1961, we have provided our local community with high-quality ingredients and prepared foods, steeped in our family's traditions. Located at 3504 West Moreland Road in Willow Grove since 1977, we continue to provide delicious, high-quality food, including lunch, catering, prepared foods, and bakery pastries – with unparalleled service for our customers!