Grilling Season
Food just tastes better when it's grilled. And it's easy. Throw some burgers on the grill, and you'll have some happy folks.
At Sam's, we have lots of options for burger eaters. For the traditionalist, we have the fresh Black Angus burger for $4.99/lb. For those looking to be a bit more healthy, we have chicken burgers. For those going the meatless route, have you tried the Impossible burger? Sam's has 'em. The Impossible Burger delivers all the flavor of a regular burger, but it's all plant based! You will experience the taste and texture just like actual red meat — it even "bleeds" beet juice!
Whatever type of patty you prefer, pick them up at Sam's. And, don't forget our house made burger buns, which are the perfect burger accompaniment.
A perfectely barbequed Black Angus Burger with fresh, sliced Lancaster tomatoes.
Fruits and Veg
Summer is when fruits and vegetables are at their peak and just taste great. They're perfect, juicy and delicious. We have fresh Lancaster tomatoes, local, super sweet corn and, of course, juicy, sweet watermelon.
Locally grown, juicy Lancaster tomatoes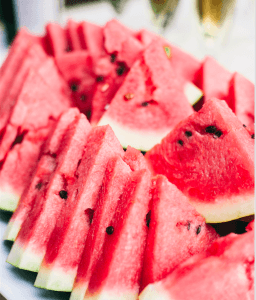 Refreshing, cool and sweet watermelon.
Need an Appetizer idea?
Why not pick up our tomato mozzarella salad and make this awesome appetizer!
It's brimming with flavor, and it looks gorgeous too. Check out our other catering menu here – we have lots to choose from.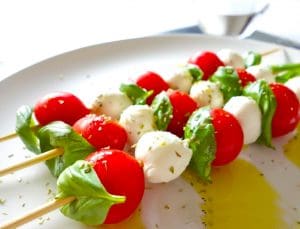 Don't Forget Dessert
Lemon bars are back! These summer favorites are sweet, tart and refreshing. Made in-house with our cornbread crust and a slight hint of salt, you will want to eat a tray of them yourself.
Other sweet options are our gorgeous fruit tarts. They have a shortbread crust and are filled with pastry cream and topped with beautifully bright and fresh fruit and a sweet glaze. They make any table look pretty.
Hoagie of the Month
July's Hoagie of the Month is the mortadella hoagie. It has genuine Citterio mortadella with your choice of cheese and cradled in our house made hoagie rolls.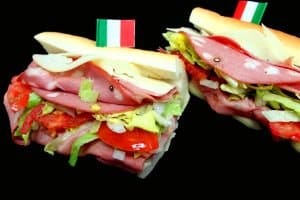 Cheese of the Week! Don't forget, every Friday – Sunday we offer samples of a selected cheese. We are always happy (and eager) to provide pairing tips, so please just ask!
Sam's Italian Market & Bakery is a family-owned Philadelphia institution. Since our first store in the Olney section of Philadelphia, which opened in 1961, we have provided our local community with high-quality ingredients and prepared foods, steeped in our family's traditions. Located at 3504 West Moreland Road in Willow Grove since 1977, we continue to provide delicious, high-quality food, including lunch, catering, prepared foods, and bakery and pastries – with unparalleled service for our customers!