Hello! We are thrilled to tell you about the fun and delicious things on deck for March.
Did you know that the Irish Potato is a traditional Philadelphia confection, originating in the City of Brotherly Love? And did you know that they actually contain NO potato?   Stop in and pick up our freshly made Irish Potatoes — which are made from our own Mrs. O'Connor's famous recipe — for St. Patrick's Day.  We hand make these in house, using fresh shredded coconut, cream cheese, cinnamon, and love!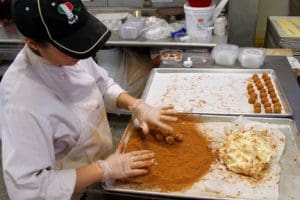 Mrs. O'Connor pictured making our Irish Potatoes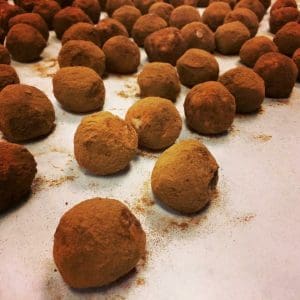 Irish Potatoes
Nutritionists say to eat the rainbow, so put a little green in your life with pistachio bread!  Right in time for March 17th!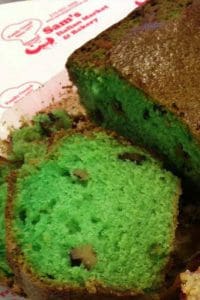 St. Joseph's Day falls on March 19th, however, for the entire month of March, you can expect to see the ever-popular, crowd pleaser, St. Joe's Cake. The St. Joe's cake is a traditional French crueller, filled with either ricotta cream or vanilla custard and topped with a cherry, just like in Italy.  Due to the high demand of these sweet treats, the St Joe's Cakes must be ordered in quantities of four or more. Call us to place your order today!
It's finally here: March Meatball Madness!
March is Meatball Madness here at Sam's Italian Market. We make our meatballs in house, using fresh ground beef, seasoned to perfection, and simmered in our homemade marinara sauce.  Take $1.00 off 9-count containers and $2.00 off 20-count containers. We'll be offering samples on weekends, so come give them a try. We know they're a slam dunk!
And, last but not least, the Hoagie of the Month is The Don!
Your choice of sweet or hot soppressata, hot or regular capicola, mortadella, and off the block sharp provolone on our fresh baked seeded hoagie roll.  Are you hungry yet?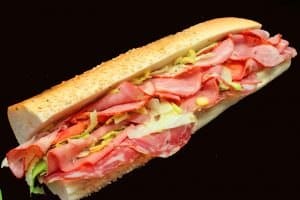 Sam's Italian Market & Bakery is a family-owned Philadelphia institution. Since our first store in the Olney section of Philadelphia, which opened in 1961, we have provided our local community with high-quality ingredients and prepared foods, steeped in our family's traditions.  Located at 3504 West Moreland Road in Willow Grove since 1977, we continue to provide delicious, high-quality food, including lunch, catering, prepared