I can't remember there being a better time to be in Philly than these past few months.  Just as we came off our 'Red October' cheering for our Phillies, the Eagles soared through their season and are headed to the Super Bowl!  Combine this championship feeling with Valentine's Day and a weekend for President's Day, this short month becomes a fan favorite!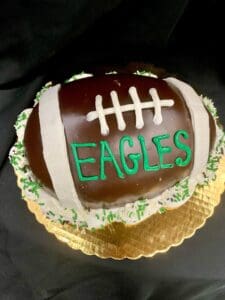 Stock Up for Super Bowl
If you're not already busy planning for the big game, it's not too late!  Whether you're an intense fan that needs to watch the game with a select few (while holding your good luck charm!) or your mantra is 'the more, the merrier!'–  we have what you need to make this Eagle's Super Bowl Sunday the best one yet.
Chili's on
Chili is a great dish to serve up on game day.  Hearty, filling, and packed with flavor, our chili is available in beef, turkey, or vegetarian, so there's something for everyone.  Pick up some of our homemade cornbread then fill bowls with toppings like some chopped onion, pepper, avocado, sour cream, and shredded cheese, and now you have a champion chili bar!
Wing time
If wings and football are your favorite pairing, you won't want to miss our wings special.  Oven-baked Italian Hot or Tangy BBQ, only $15.99 for 15 wings are such a great deal tell your friends you'll bring one of each flavor of these wings to the party!!
Hoagie Boxes 
For the traditionalists, you can't imagine the Eagles playing in the Super Bowl and NOT serving Sam's hoagies!  Our always popular Hoagie Boxes are great for the big game because you get 3 feet of hoagies, a total of 10 lbs., in one tasty box built to please a crowd.  And if you're craving something spicy- try the Smokin' Turkey in the mix!  This hoagie is growing in popularity and you won't find anything else like it anywhere.  Because after all, a love for hoagies– it's a Philly thing!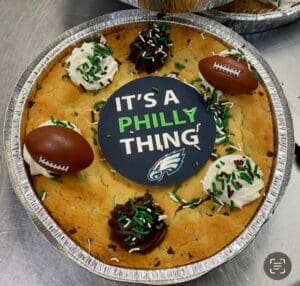 The Perfect Take
Not sure what to take to the big party?  Everybody wins when you bring an Eagles-themed cake, cupcakes, or the perfect cookie cake that combines the best of both!    
The Other Souper Bowl
We have enjoyed a pretty mild winter- so far!  But, be ready for those chilly days and freezing nights that are still a possibility in our area.  Stock up on some of your favorite Sam's soups and fill the freezer so when the temperature drops you can stay warm with some satisfying and delicious soups.  Warm some bread and slice some hearty cheese for a 'souper' meal you'll look forward to anytime this winter.  My favorites are:
Minestrone

Italian Wedding Soup

Chicken noodle soup
We Got Spirit – How 'Bout You?
Share your team spirit and your Eagles pride and post pictures of your Sam's Super Bowl fun and you may win a Sam's gift card- just remember to tag us when you do! 
True Love Reigns
Valentine's Day is still February 14th!  Avoid crowded restaurants and make a delicious dinner at home to celebrate the loveliest of days.  We have great options for heat-and-eat dinners for two, or pick up a lasagna that the whole family will enjoy and feel the love!  And, of course, you'll want to complete the meal with a delicious Valentine's chocolate cake or individual cupcakes that show how much you really care.
Additional Savings
We are also pleased to offer special savings of 10% on orders up to $100 for on-duty police officers, fire and EMS personnel.  And, every Wednesday seniors over 65 will save 10% on orders up to $100.  
Sam's Italian Market & Bakery is a family-owned Philadelphia institution. Since our first store in the Olney section of Philadelphia, which opened in 1961, we have provided our local community with high-quality ingredients and prepared foods, steeped in our family's traditions.  Located at 3504 West Moreland Road in Willow Grove since 1977, we continue to provide delicious, high-quality food, including lunch, catering, prepared foods, and bakery and pastries – with unparalleled service for our customers!